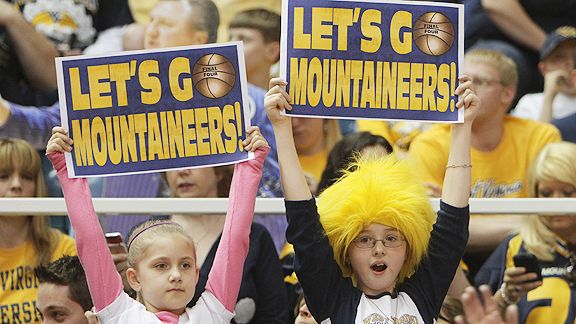 AP Photo/Kenneth R. BrooksListen up, Mountaineers: You have a shot at something special.
Dear West Virginia men's basketball team,
This is it. Your chance. Your time. Your opportunity for athletic immortality, one shining moment in the national spotlight, a victory that will be celebrated so long as there are pods and brackets.
And all you have to do is beat Duke.
Listen up, Mountaineers: You have a shot at something special. Truly memorable. Final Four squads come and go, as flash-fry hyped and quickly forgotten as Lady GaGa's costume changes. But taking out the Blue Devils? Helping Coach K get a two-day jump on his Armed For Life corporate leadership seminars, or whatever motivational claptrap keeps him busy during Durham summers? That's once-in-a-lifetime. That puts you in select sporting company, the pantheon of clubs who earned widespread, lasting love and gratitude not for what they accomplished, but for whom they defeated along the way, putting down much-detested opponents.
Think the 2008 New York Giants. The 2001 Arizona Diamondbacks. The 1991 -- and it pains us to say this -- Duke Blue Devils. America's Teams, every last one. At least for one night.
Here's the thing about the Devils: They're not the New England Patriots. Nor are they the dynastic 1990s Yankees. Heck, they're not even that good, certainly not as dominant as previous Blue Devils squads. Only that doesn't make them likable. It makes them more loathable. Because in a Final Four featuring unknown Butler, underrated Michigan State and your unheralded-since-Jerry-West selves, Coach K and Co. get to play the scrappy, hardworkin', nobody-believes-in-us card. Only they're still Duke, a club with six McDonald's high school All-Americans on its roster. (The Sweet 16 team with the next highest number? Kentucky. With two).
Forget Christian Laettner's foot stomp, J.J. Redick's poetry, Jay Williams' piggyback rides of Jason Gardner, Wojo's palm-purpling floor-slapping and the Shane Battier Is The Student-Athlete era. Focus on the now. The Blue Devils winning the tournament as self-styled underdogs? For Duke haters and right-thinking college basketball fans alike -- which is to say, everyone not related to the school by employment, degree or bloodline -- that's simply too much to bear.
These are the stakes, West Virginia. Understand them. Then get out there and do it. Stop the madness. Beat the Devils. Earn a place next to David Tyree and Luis Gonzalez in America's heart. For Saturday night. Forever.
Oh, and capturing a national title wouldn't be shabby, either.
Sincerely,
Patrick Hruby