Alyssa Milano was torn on Friday.
The 37-year-old actress is excited about her new ensemble TV show "Romantically Challenged," which premieres April 19 on ABC. She plays a recently divorced single mom in Pittsburgh rebuilding her life.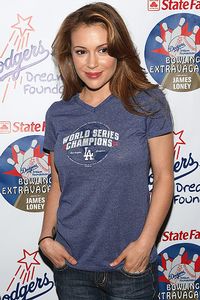 Noel Vasquez/Getty ImagesAlyssa Milano attends about 40 Dodgers games a season.
But she's not excited about her other love -- the Los Angeles Dodgers -- and the start of the baseball season.
"I think it's going to be a rough year," said Milano, who has had season tickets at Dodger Stadium for the past seven years. "Granted, I always go into the season as a pessimist. Hopefully, I'll be pleasantly surprised."
Milano, born in Brooklyn, N.Y., became a Dodgers fan when her family moved to Los Angeles in 1984 when she landed a role on the sitcom "Who's the Boss?"
"My dad was an original Dodgers fans when we lived in Brooklyn. But he was heartbroken when they moved. So we switched our allegiance to the Yankees," said Milano, whose dad is a film music editor and her mom a fashion designer. "He said he was never going to be a Dodgers fan again. When we moved to Los Angeles, he thought, 'Maybe I should consider being their fan again.' And there you have it. We have four season tickets."
Despite a hectic acting schedule, Milano said she attends about 40 baseball games a year.
"There is no better place to be than in the ballpark in your town," she said. "It's a sensory experience."
And what about the Dodgers this season?
"I haven't been thrilled about the starting rotation for years. You have to have good pitching to win a championship," Milano said. "I haven't told management my thoughts. But I blog about it and pray someone in the front office will be reading!"