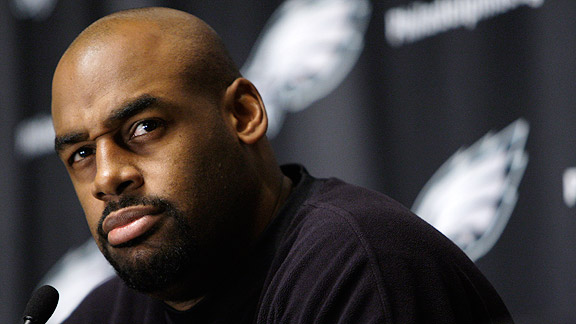 AP Photo/Matt RourkeI know Donovan McNabb is likely staying put, but he really should consider Buffalo.
Word now is that the Philadephia Eagles can't broker a deal to trade Donovan McNabb. Philly's asking price trigger shy trade partners. Well, I've got a city for him -- Buffalo. Not Oakland. Not Phoenix. Not St. Louis. Buffalo.
The problem is, my city has a bad rep. Unless you're a 2009 Terrell Owens with basically no options, nobody demands a trade to Buff. So, repping for Buff, let me state our case:
Buff vs. Minnesota: Forget about Favre, let's talk about Prince. Our guy, Rick James, has passed, so he wouldn't have the opportunity to make lame team songs like this one Prince did for the Vikings.
Buff vs. St. Louis: Cards slugger Albert Pujols and rapper Nelly are big stars in St. Louis. We have no stars in Buff. We have Drew Cerza, the "Wing King." You'll run this town.
Buff vs Oakland: Meddlesome owners are kind of annoying, right? Well, Al Davis is known to meddle. No owner-meddling in Buff.
Buff vs. San Francisco: Mike Singletary is all leader. Bills coach Chan Gailey? Wait and see.
Buff vs. Phoenix: Arizona is ridiculously hot. Western New York is ridiculously cold. You can wear a ton of clothes and stay warm. You can't, however, walk around butt-naked to stay cool.