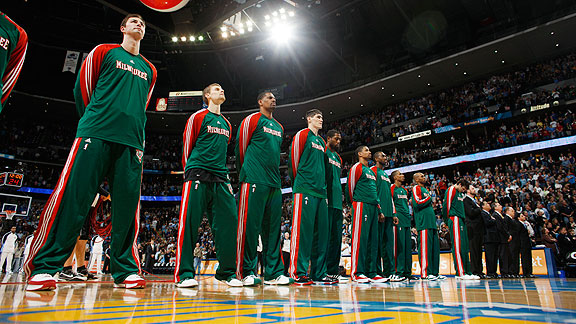 AP Photo/David ZalubowskiMilwaukee center Andrew Bogut is out indefinitely, so are you less likely to 'Fear the Deer'?
We're a jaded bunch at Sunday Brunch, so we rarely admit to being excited about any sporting slogan -- especially one from the Milwaukee Bucks. But our fancy is tickled by the Bucks' current slogan:
"Fear the deer."
That just sounds cool. So cool that it should be borrowed by a film that's just begging to be made -- right, a remake of "Bambi."
Listen to the voiceover:
"This in not your grandparents' Bambi. Directed by Quentin Tarantino, this is the story of a child who watched as they burned his home and killed his mother. But revenge would be his as he stalked them down and taught them a lesson they would repeat with their dying breath: Fear the deer!
Now let's taste what the master chef's have prepared for our Sunday Brunch: