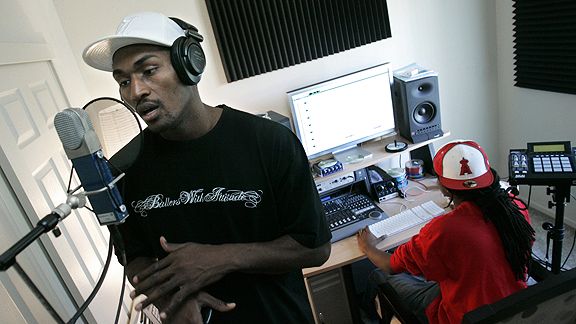 AP Photo/Rich PedroncelliRon Artest's singing isn't so bad and I think he could make it a career.
Last week, Ron Artest appeared on "Lopez Tonight" and performed a new song, "One Nite Wifee." The phrase shouldn't need any explanation.
Now, I know Ron-Ron was responsible for a train-wreck tribute to Michael Jackson last summer. And I know he was also responsible for a dud called "Haterz." And, yes, I know that Ron-Ron, despite his earnest love for music, is not anything close to fellow Queensbridge native Nas … he's not even close to fellow Queensbridge (and crew member) Nature. But, this "One Nite Wifee" joint -- dare I say it -- has some potential to be a legitimate hit.
For one thing, a record doesn't have to be good to be a hit anymore. That's not me being some old school curmudgeon (I dig random, guilty-pleasure songs from T-Pain, Gucci Mane or Maroon 5 like the next man), that's just the truth. Throw some auto-tune and catch-phrases over some 808 and snaps and, chances are, you'll get some spins. And this song has all of that, especially the catch-phrase. I can hear some little high schooler singing "you can be my one nite wifee" right now.
The one thing that could hold it back is that no one takes Ron seriously. I mean, even he knows it. His new reality show set to air soon is titled "They Call Me Crazy." People call him crazy not just for brawls, but for less threatening and, actually, quite endearing stuff like singing Celine Dion for Filipino families. But if he manages to get folks to treat him as anything other than a lovable loon, he might have a hit record on his hand. Seriously.