I feared they were finished. Kaput. Dynasty derailed. I figured time had passed them by, that their title-winning window had closed, that younger, hungrier rivals had condemned them to the depths of history's dustbin, below communism and Baby on Board stickers and the Oakland Raiders being relevant. Only I was wrong. Wholly so. With one swift and thunderous move -- Sunday's acquisition of perennial Pro Bowl quarterback Donovan McNabb -- they made a mockery of my doubts and elevated themselves to a familiar, well-worn perch.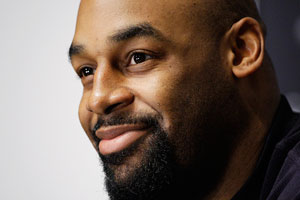 AP Photo/Matt RourkeDonovan McNabb has made the Washington Redskins the offseason champs!
Ladies and gentlemen, your 2010 NFL offseason champions: The Washington Redskins. We're back, baby!
Here's the thing about pro football fandom in the nation's capital: the home team hasn't accomplished anything of on-field significance since a special edition of "In Living Color" delivered a ratings beatdown to an ice skating-themed Super Bowl halftime show. That's almost 20 years. Twenty long years of Norv Tuner looking befuddled, unsold Bruce Smith sack king t-shirts, Michael Westbrook going Bruce Lee on Stephen Davis, Jim Zorn looking bewildered, Gus Frerotte head-butting a concrete wall with predictably diminished returns, Brandon Lloyd earning about $2.5 million per caught ball, Steve Spurrier looking like the smartest man in Osaka and … I could go on, but even medieval flagellantes took coffee breaks every now and then.
Not anymore are we the laughingstock. Washington is a mind's eye winner once again, a paper juggernaut, a Madden 11 force to be reckoned with. At least until the first official downloadable roster update. Let the naysayers bemoan the club's patchwork offensive line, its unproven receiving corps, its questionable secondary, its aging running backs, its continual coaching turnover, its general lack of youth and depth, the fact that McNabb might shatter the single-season sacked record, provided he remains upright and ambulatory. Not me. Such prosaic concerns are for the regular season. I'd rather live in the here and now -- where the sun is shining and the helmets are unscratched and the best is always, always yet to come.
Speaking of which: Tim Tebow is sure to be available at No. 4 in the NFL Draft. And T.O. is still available, right?