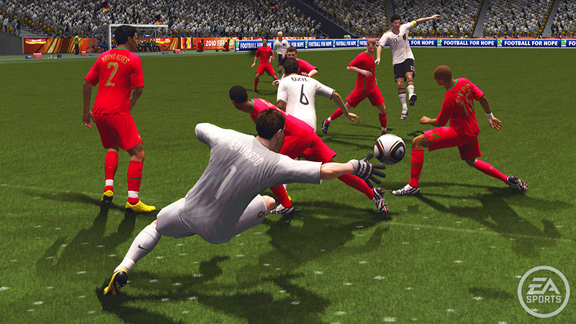 EA Sports"2010 FIFA World Cup South Africa" has already improved upon the great "FIFA 10" gameplay.
If you already own "FIFA 10," is there really a need to run out and buy "2010 FIFA World Cup South Africa" when it hits stores April 27? Is it really that much of an upgrade?
Surprisingly, the answers to both those questions look to be yes, as "World Cup" actually manages to improve on "FIFA 10's" already brilliant gameplay while also offering new challenges and gameplay modes not seen in EA's award-winning soccer game.
"The World Cup is simply the biggest sporting event in the world," explains Simon Humber, the game's line producer. "It's on a different scale to anything else out there, and the global interest is like no other. And because of this, it gives us the chance to do something different in the video game, as well.
"There were 199 teams that officially took part in qualifying, and we have each of them in the game. So you can play as powerhouses like Brazil, Spain, England and Germany, or you can travel the world and take a team from the Caribbean islands or some team that is way down on the FIFA rankings and see if you can challenge yourself to take a tiny nation all the way to the World Cup finals."
But the game isn't just about challenging yourself with a tiny nation while using the same old stick skills you learned in "FIFA 10." As I said, EA Sports has gone in and already made some significant upgrades to the gameplay, the graphics and the available modes.
I recently had the chance to catch up with Humber and get his thoughts on the five things every gamer needs to know about "2010 FIFA World Cup South Africa."