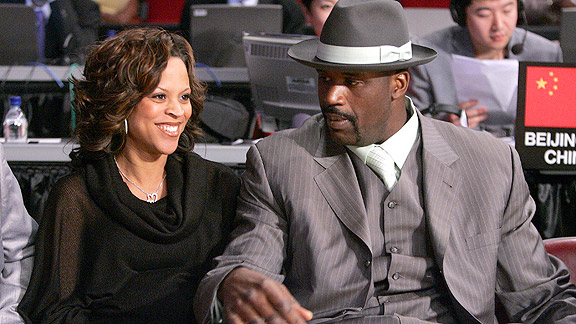 AP Photo/LM OteroHere are Shaquille O'Neal and then-wife Shaunie, pictured during happier times.
There are a few players around the NBA with a bit of a knot in their stomachs, and it has nothing to do with the upcoming playoffs.
"Basketball Wives", a reality show chronicling the lives of current and former wives and girlfriends of NBA players, premieres on VH1 this Sunday at 10 p.m.
"You hear through the grapevine, 'Oh, the guys are so scared, that people are worried and the NBA is concerned and all that good stuff'," said Shaunie O'Neal, the show's executive producer and ex-wife of Shaquille O'Neal. "But I honestly don't think they have anything to worry about at all.
"I can't wait for them to see it because I think that whatever they have in their minds that [the show] is going to be or could be, that's not what it is. It's really about the ladies and what they're personally going through. It's not putting anybody on blast or dogging any particular person."
The show follows women on various ends of the "basketball wife" spectrum: From Evelyn Lozada coping with her split from ex-fiancé Antoine Walker to Gloria Govan, fiancée of Orlando's Matt Barnes, whose life (at least from the show's outset) seems relatively calm. Well, aside from the fact that she has to smooth out some things with Shaunie over rumors that Govan's sister (who is also Gilbert Arenas' ex-fiancée) slept with Shaq. Oh, the tangled web.
That's before you even get to Royce Reed, who is sure to be the show's most polarizing figure.
"She was always on my mind, but because she was a baby mama, as they say, it was questionable in my mind if I should even include her," O'Neal said of the former Magic/Heat dancer.
In the end, she did.
After all, one thing that gets viewers to tune in -- whether it's reality TV or the NBA postseason -- is drama.