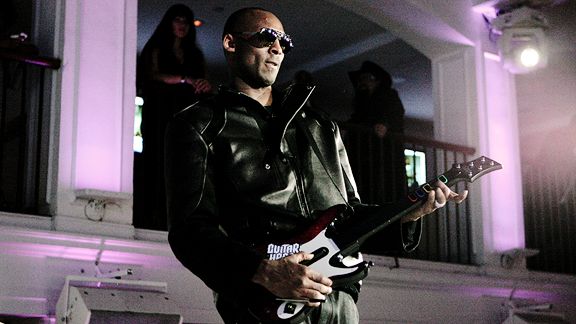 Getty ImagesKobe Bryant admitted he hadn't ever played Guitar Hero before.
LOS ANGELES -- It's April 6, a brilliant afternoon in Hollywood, and the stage is set for a high-wattage gaming battle between Lakers star Kobe Bryant and Oscar-winner Jamie Foxx. The two will square-off in Guitar Hero 5 for a red carpet event that will stream live on Qonquest.com, a new social gaming platform.
Only one glitch: Foxx doesn't show.
Here are some other odd happenings from Boulevard 3 …
• Among those representing Team Kobe: teammate Josh Powell, 49ers safety Dashon Goldson, Ravens linebacker Ray Lewis, and crazy man Bobby Brown, who is planning a tour. "I'm coming back!" says the singer, a fierce look in his eyes.
• Representing Team Foxx is one brave man: Chiefs safety Jarrad Page. "I'm not a Lakers fan," Page says, before noting his surroundings and wishing Bryant well. "These games are dangerous. I've strained my index a couple of times hitting the speed burst in NBA 2K10. Hopefully, Kobe won't hurt another finger."
• Super Bowl champs Roman Harper and Darren Sharper sneak into the party, unnoticed by all -- except, well, a pimp. That's right, Don Magic Juan -- aka Bishop Magic Juan, aka The Chairman of the Board, aka spiritual adviser to Snoop Dogg and, yes, a pimp -- is in the house. Welcome to LA, champs.