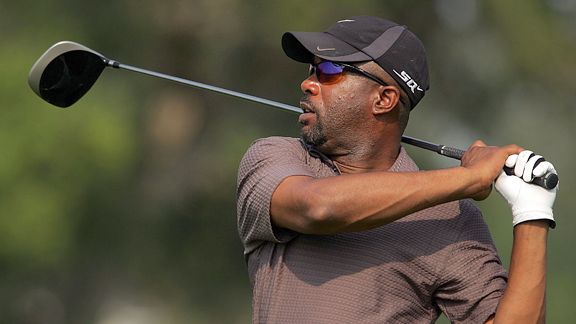 Scott Halleran/Getty ImagesDarius Rucker plays golf almost every day, including on tour.
Darius Rucker isn't surprised at how well Tiger Woods is playing at the Masters.
Rucker, former lead singer of Hootie and the Blowfish, and Woods have been friends for about 15 years. Rucker even sang at Woods' wedding and his father's funeral.
"Golf is 90 percent mental, and Tiger is a tough guy," Rucker said. "With all the stuff that's going on, golf remains a haven for him. He can just go out there and swing the golf club."
Although he transformed from a pop star to a successful country singer, Rucker still knows a thing or two about golf. He plays almost every day, even on tour, as the opening act for Rascal Flatts and Brad Paisley.
"Nothing really happens until 3 or 4 p.m. when you need to get to the arena," said Rucker, whose best score is even par. "So we have all day to play golf. At home, I play even more!"
Monday, Rucker and his former bandmates will be home in South Carolina, putting on the 16th annual Monday After the Masters in Myrtle Beach. The celebrity pro-am has generated millions of dollars for children's education through the Hootie and the Blowfish Foundation.
"We are all big golfers and we wanted to attach our name to this worthwhile charity event," Rucker said. "It has grown and grown. Look who we have here now."
More than 20 PGA Tour pros -- including Chris DiMarco, John Daly and Jim Furyk -- will playing alongside celebrities such as NFL Hall of Famer Dan Marino, musician Branford Marsalis and NASCAR driver Kyle Petty.
"There are so many great golfers and cool celebrities and we get to hang out with the fans," Rucker said. "It's going to be a great time. Bring your fun shoes."