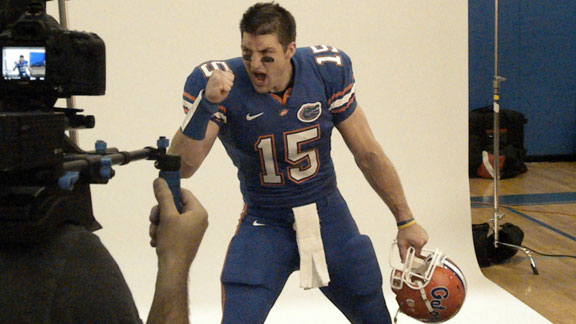 Jon Robinson/ESPNSay hello to the newest EA Sports cover boy.
(Say it! Say hello to him!)
According to Tim Tebow, the best part about being the "NCAA Football 11" cover athlete isn't seeing his face plastered on the front window of every video game store in the country. It's the chance to play his favorite game before anyone else. "I've been playing this game since I was 6," Tebow told me during his photo shoot. "But they made so many big changes this year, I needed to find out the secrets before it came out."
That's why Tebow made the trip to EA Sports' Orlando studio, spending half his day posing for pictures, the other half hunkered down in various gameplay producers' cubicles learning the ins and outs of this year's groundbreaking title. The difference? Try a brand-new locomotion physics engine that allows players to move and react realistically on the field, including running with momentum and leaning forward to truck defenders. Best of all, the game finally nails the difference between a player's speed and acceleration, giving guys with higher acceleration ratings the ability to burst out of their stances at the snap.
But playing games and smiling for cameras wasn't all Tebow was up to in Florida. The quarterback's other mission was to hunt down "Madden NFL 11'" ratings guru Donny Moore. Tebow wanted to put in a good word for his cyber self in hopes of boosting his stock a few points, especially when it comes to his speed and trucking ability. And it looks like the face-to-face time with Moore worked to Tebow's advantage.
"Tebow will be the best trucking quarterback in 'Madden' this year," said Moore after the meeting. "He's not the most elusive, but in terms of breaking tackles and power, he will be able to put down his shoulder and run over a few defenders. A lot of this is fluid, but right now in 'Madden 11,' we have Tebow at 80 speed and 92 acceleration. Trucking, carrying the ball, like I said, he's going to be better than any quarterback coming into the league."