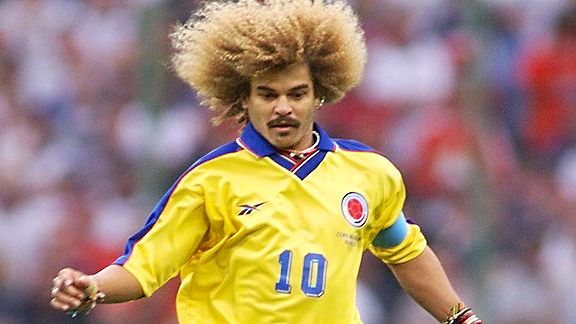 Pedro Ugarte/AFP/Getty ImagesWhat can you say other than, "That's a lot of hair."
Lionel Messi has been rightfully lauded as one of the greatest players ever to take the field in the wake of his four-goal deconstruction of a discombobulated Arsenal. One of the more remarkable but rarely discussed aspects of his game is his achievement of this feat without ever developing a signature haircut. Each one of his favored styles, be it limp and long, an impish bob, or his current journey deep into mullet territory, look as if he has sheepishly emerged from a local Supercuts.
Messi's superior abilities allow him to get away with this. His peers are not so lucky. Merely mortal and less skill-kissed, they have just more than 60 days to finalize their World Cup looks. The styles they commit to can either be very good or very, very bad. It matters not as long as they stand out. The World Cup is many things: A sporting spectacle, multinational marketing frenzy and political signifier in equal measure. But it is also the largest talent showcase in the soccer world and one in which almost every player can audition. The key is to grab the spotlight and be noticed. All it takes is one stabbing run or gravity-defying goal. Failing that, a distinctive haircut may do just as well. In this era of lucrative image rights, many players have cottoned on to the fact a hairdresser with a courageous imagination (or failing that, a sense of humor) can be more useful than a crack fitness coach in the run-up to kickoff.
David Beckham is the pathfinder in this regard. He has braided it, shaved it, dyed it, layered it, blown it out, fauxhawked it -- pretty much everything but bent it -- aware that his shape-shifting extreme makeovers are sufficient to throw the world's media off the stench of his declining skills.
It should be noted, not everyone appreciates this kind of unfettered creativity.