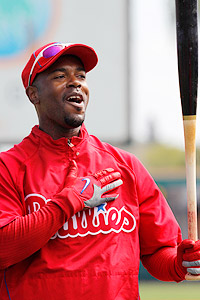 AP Photo/Gene J. PuskarJimmy Rollins will attempt to set a record on Tuesday.
Philadelphia Phillies shortstop Jimmy Rollins -- all of 5-foot-8 and 170 pounds -- on Tuesday will try to break the record for hitting a baseball the farthest.
Rollins, who has hit a home run 424 feet before, will be using a souped-up bat when he steps to the plate on Benjamin Franklin Parkway in downtown Philadelphia to try to break Babe Ruth's record of 576 feet.
"I never really thought about breaking a record," said Rollins, who is being sponsored by Red Bull to try this, "but since there is one, they're meant to be broken!"
Forming a partnership with two university sports science and physics professors and using state-of-the-art equipment, Rollins will give it his best shot.
And what if he hits someone's car windshield?
"Red Bull said they'd pay for it."