The Minnesota Twins will officially inaugurate their new $545 million ballpark Monday afternoon. While Minnesota boasts the best-known "Twins" in professional sports, they're not the only ones. In honor of Target Field's opening, here's a look at other notable sports twins.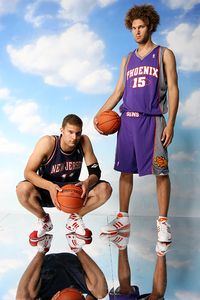 Nathaniel S. Butler/NBAE/Getty Images
Brook and Robin Lopez, NBA: So much for sibling rivalry. Brook is averaging 18.9 points and 8.7 rebounds a game for the New Jersey Nets, while his doppelganger and former Stanford teammate averages 8.7 ppg and 4.9 rpg with the Phoenix Suns. Yet, according to Brook, the only real difference between these 7-foot centers is "I went to the barber shop one time and he didn't."
Tiki and Ronde Barber, NFL: Both made their mark in the NFL. Both have multiple Pro Bowls attached to their names. However, only one has a Super Bowl ring. "If there's ever a question about anything I can always fall back on that and he knows it," Ronde told The Guardian last year. Tiki retired after the 2006 season to become a TV broadcaster. Ronde continues to make life difficult on opposing offenses.
Jose and Ozzie Canseco, MLB: It's Bud Selig's worst nightmare come true. There are two Cansecos. Ozzie played only 24 games in the majors compared with Jose's 17-season career. Although Ozzie captured fewer headlines, appeared on fewer reality TV shows and penned fewer tell-alls than his identical twin, he hasn't exactly been immune from trouble.
Bob and Mark Bryan, tennis: The No. 1 doubles team in the world, these twins have a career Grand Slam, with a total of eight Grand Slam tournament titles. One event they've yet to win? The Olympics. The Bryans finished with a bronze in Beijing. The gold medal went to the Swiss, a team featuring Roger Federer, who is the father of twin girls.
Other sports figures with twins include Boston Red Sox general manager Theo Epstein, Hall of Fame quarterback John Elway, racing legend Mario Andretti and Dallas Mavericks forward Shawn Marion.