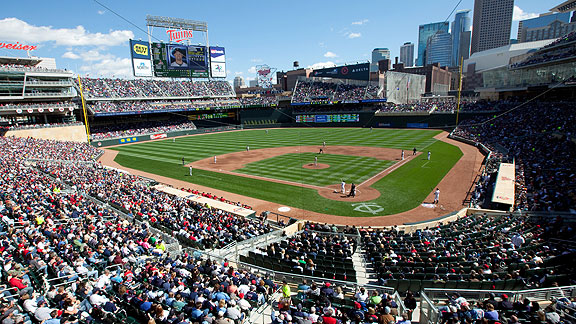 Wayne Kryduba/Getty Images
MINNEAPOLIS -- What? No dull, beige Teflon roof? No cement-hard green carpet? No Hefty bag for a right-field fence? And they dare call this a major league ballpark?
Well, yes. And a damn good one at that. After 29 years of indoor baseball and after years of arguing over the proper amount the public should pay to build a facility for one of the richest families in sports, Minnesota finally has a new outdoor stadium. The Twins play their home opener at Target Field on Monday.
Or at least they are scheduled to play their first game Monday. It could rain or snow (this is Minnesota, after all), and after three decades in the Metrodome, the weather is a factor for the Twins again. That's because despite a $550 million price tag, the new ballpark doesn't have a retractable roof (and no possibility of adding one). More than a half-billion dollars may sound like a steep price for a roofless park, but bear in mind that includes the cost of the TruCoat sealant. "See, they install that at the factory …"