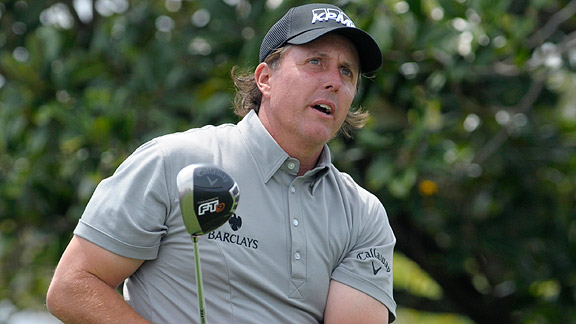 AP Photo/Phelan M. Ebenhack
Here's yet another reason to love Phil Mickelson -- a free Callaway driver.
That's exactly what more than 15,000 fans got by believing in Lefty at the Masters. In a promotion with Golfsmith and Callaway, anyone who purchased a Big Bertha Diablo Edge, FT-Tour or FT-iZ driver between March 18 and April 7 will get their money back after Mickelson claimed the green jacket.
"In addition to wowing the galleries at Augusta for his third Masters Championship, Sunday, Phil Mickelson gave golfers across the country and internationally a great present to start the season," said Golfsmith President and CEO Marty Hanaka.
Considering that drivers are the most expensive clubs in golf, that rebate is nothing to sneeze at. These Callaways retail for $300-$400 each, and this deal will end up costing roughly $5 million.
It's not the most expensive promotion in sports though. In 2007, Jordan's furniture took a gamble on the Red Sox offering rebates to customers who bought furniture between March 7 and April 16, 2007 if Boston won the World Series. After the Red Sox win, roughly 24,000 customers got their furniture for free. Luckily, Jordan's furniture had the deal insured, so they didn't have to pay the estimated $20-$30 million themselves.
The sheer cost of these promotions make Cavaliers fans look even more ridiculous for booing LeBron James last season when he lost them the opportunity for a free Chalupa from Taco Bell. James dribbled out the clock in a 99-93 win at home, but took umbrage from the crowd who needed Cleveland to score 100 points in order to receive their prize.
James summed it up best: "I can't believe people who buy season tickets get worked up over a g-- d--- $1 (blank) taco."