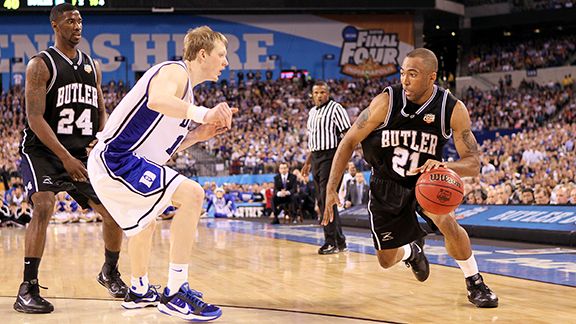 Andy Lyons/Getty Images
They almost beat Duke, so why not take a shot at the Harlem Globetrotters?
Three Butler Bulldogs seniors have signed one-game contracts with the Washington Generals. Willie Veasley, Avery Jukes and Nick Rodgers hope to end the Generals' nearly 40-year losing streak when they lace 'em up on Wednesday night at Conseco Fieldhouse.
Washington Generals owner and president Red Klotz has faith in his newest players.
"These kids have the winning attitude we need to push us over the hump," said Klotz. "Playing in Indianapolis with these guys on the floor also gives us the type of home-court advantage the Bulldogs enjoyed at the Final Four. I don't think I'd want to be a Globetrotter on Wednesday night trying to shut these guys down."
Butler may have taken down Syracuse, Kansas State and Michigan State in the NCAA tournament this year, but the Globetrotters will have the upper hand tomorrow night. They're Duke, the Lakers and the Yankees all rolled into one. They've delivered more than 13,000 losses to the Generals over the years. Maybe some of the solid fundamentals these Bulldogs have learned under Brad Stevens will help Washington get its first win since Jan. 5, 1971.
Let's just hope Veasley doesn't fall for the basketball under the jersey trick. And Jukes doesn't watch too many bounce passes go between his legs. And let's hope Rodgers plays some solid defense when the Globetrotters bring in some old lady from the stands.