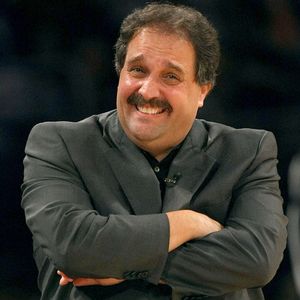 Stephen Dunn/Getty ImagesStan Van Gundy's children are tired of his traditional moustache. Orlando Sentinel has some suggestions.
Orlando Magic coach Stan Van Gundy isn't in the joking mood as the NBA playoffs start this weekend. But that didn't stop the Orlando Sentinel from having fun with the rotund, moustache-wearing coach.
Just in time for Wednesday's regular-season finale, the Sentinel created "SVG: The Makeover", an interactive flash graphic that allows readers to select 14 facial-hairstyles.
Van Gundy has worn his trademark 'stache for more than 30 years, and his kids have been asking him to shave it off.
"They just want to see what I look like," Van Gundy said.
Readers can scrap Van Gundy's traditional look for "The Jack Sparrow", "The Tyson" or the "Klingon".
Check it out here.