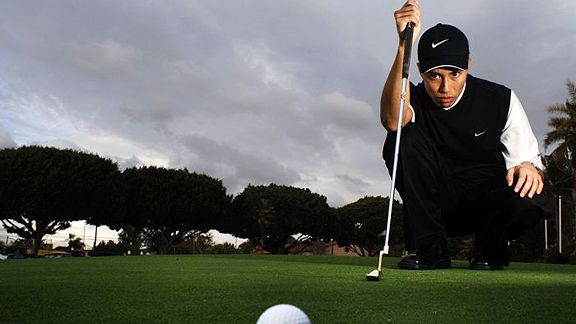 tigerwoodslookalike.com
Maybe you've heard: Being Tiger Woods is a bit of a hassle these days. But what about being a Woods look-alike?
Page 2 caught up with Herme Chua, a 38-year-old database administrator from Monrovia, Calif., who also works as a Woods impersonator.
Page 2: What sort of impact have Woods' sex scandals had on your look-alike business?
Chua: After the scandal broke, I've gotten a lot more attention. Some of the offers have been a lot weirder than normal, like appearing at adult clubs and being in an adult film.
What did the adult film and club offers entail?
I won't give the name away, but I believe it was a major adult film company, and they just wanted me to appear like I was texting someone. I was promised there wouldn't be any sex or nudity. [The clubs] told me that it would be six different cities on six nights. They just wanted me to show up. I would have bodyguards. They said that they hired three of Tiger's mistresses to be there.