Truth serum got the better of Jerry Jones again. This time, Jones was caught on camera in a bar saying that Tim Tebow wouldn't "get on the field" for the Dallas Cowboys, and that Jones hired Bill Parcells only to get support for the new amusement park stadium he built for his team.
I guess Tebow is no Chad Hutchinson.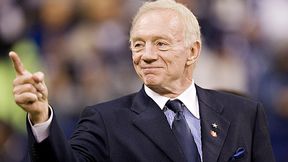 Wesley Hitt/Getty Images
Hiring a straight-ahead football man to secure a self-indulgent stadium? Such brilliance must mean Jones was drinking Guinness that night. Perhaps after a couple more drinks he would've shared the following explanations for bringing certain figures to the Cowboys:
Deion Sanders: "I brought him to teach me how to tie a do-rag."
Wade Phillips: "I needed someone with big hands that could bring back several drinks in one trip."
Barry Switzer: "I needed someone to serve as airport security."
Pacman Jones: "I needed another compelling story line for 'Hard Knocks.'"
Terrell Owens: "I wanted him to secure a popcorn endorsement for the Cowboys. You can't spell 'kettle corn' without T.O.!"
Drew Henson: "I meant to draft him for my fantasy baseball team and messed up, but it might have worked out better this way."
Tony Romo: "I wanted a QB like Brett Favre, just without the intangibles and rocket arm."
Roy Williams: "I just … I need another drink."