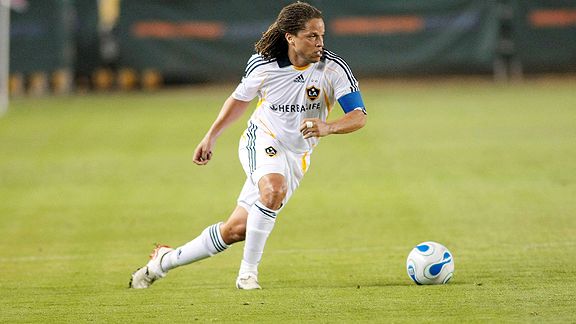 Robert Mora/MLS/WireImageCobi Jones is looking for the world's best soccer fan to go to the World Cup.
Cobi Jones has had a fulfilling soccer career, playing more matches for the United States national team (164) and having appeared in three World Cups (1994, 1998, 2002). He also appeared in the 1992 Olympics and has won two championships for the LA Galaxy in Major League Soccer.
But the 39-year-old Galaxy assistant coach still wishes he could play for the U.S. team in this summer's World Cup in South Africa.
"If you can believe this, after my many years of playing soccer, I've never been to South Africa and I've always wanted to go," Cobi said. "When you play soccer, your ultimate goal is to play in the World Cup and this one will be special."
The tournament begins June 11, and Jones is promoting a chance for one fan to earn the title of "The World's Greatest Football Fan" and attend the championship game.
Die-hard fans can submit off-the-wall photos and videos of them wearing their favorite team's memorabilia to WorldsGreatestFootballFan.com. Once each of the 32 national representatives are determined, six rounds will pit finalists against one another with winners once again determined by an open-voting process where fans votes to decide the fate of each finalist.
"Maybe I should enter too! I can be creative!" Jones joked. "I'm backing this because I want to continue to spread the word about soccer. I just want people to talk World Cup."