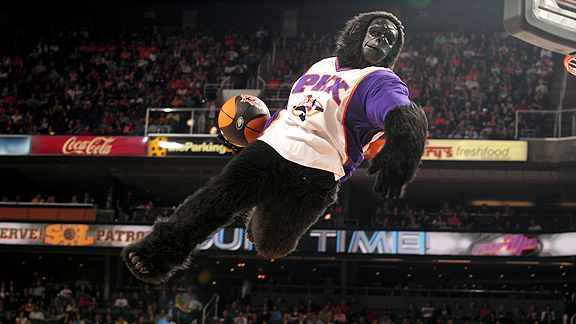 Barry Gossage/NBAE via Getty ImagesThe Phoenix Suns mascot is thankful the trampoline was invented.
When you were a kid, who was the coolest kid in the neighborhood?
It was most likely the kid who had a pool, Nintendo or a trampoline.
George Nissen, who invented the modern-day trampoline, died last week at the age of 96.
So Page 2 decided to talk with someone who made a career out of using a trampoline: the Phoenix Suns mascot, the Gorilla.
What is the best and worst part of being "Go"?
The best part is the games, the excitement, the wild and crazy stunts, and let's not forget the kids. The worst part is running out of bananas!
How important is the trampoline to your routine?
It's my trademark. Michael Jordan had his tongue, Dennis Rodman had his crazy hair, Kurt Rambis had his glasses, and I have my trampoline.
When did you start using a trampoline?
In 1988 I dusted off my old round Nissen trampoline and was the first NBA mascot to dunk during a game. I like Nissen used my enginuity and creativity to take mascots to a new level in entertaining. This started a trend world wide, and the rest is history.
Did you know that trampoline is an Olympic sport?
Yes, I've been involved in and followed the sport since the early 70s and witnessed it in action at the AAU Junior Olympics in Lincoln, Neb. This was the early pathway for trampoline to be a part of the Olympic Games.
How do you think you would do in this sport?
C'mon. … What do you think?