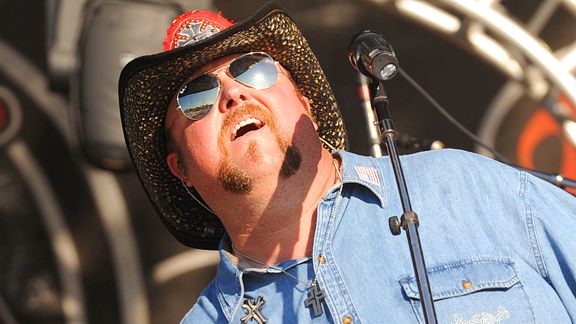 Rick Diamond/Getty ImagesOn Tuesday, former golfer Colt Ford will have a new album out: "Chicken & Biscuits."
How can you go from playing professional golf to singing about chicken and biscuits?
Country singer Colt Ford has the answer: "You can't do both."
"It was hard to have two loves at the same time," said Ford, whose name while playing golf was Jason Farris Brown. "So my wife told me to pick one. And I picked singing."
And Ford made the right decision.
After 10 years playing golf, including being an instructor, Ford gave it up to focus on his style of country music, which harks back to "The Devil Went Down to Georgia" sound of Charlie Daniels.
On Tuesday, the 300-pound Georgian, who plays about 200 shows a year, will release his second CD -- "Chicken & Biscuits."
"Isn't it appropriate that I sing about that?" said Ford, whose 2008 breakthrough CD was called "Ride Through the Country."
As a spoken-word artist, Ford is having a hard time getting radio play because his style of music doesn't fit neatly into many stations' programming lineup.
"I hate when people label me as a country rapper," Ford said. "I'm just singing country music in my own way. I'm a normal dude. I shop at Wal-Mart."
Singer Darius Rucker, new to the country scene himself, called Ford's sound refreshing and said he will find his audience. "He was one of the first people I met when I came to Nashville," Rucker said, "and I think he will be a big star."
For now, Ford will just be happy with his own Average Joe's label -- "Yes, the grass might be greener on the other side, but fortunately for us, we own the other side, too" -- and travel the country singing his brand of country music.
And he doesn't really miss pro golf.
"I'm not slick and polished. Hey, I'm too fat and too old to do anything else," he said. "But my audiences love me and they sing every song. It's like 'Field of Dreams.' I built it, and they are coming."