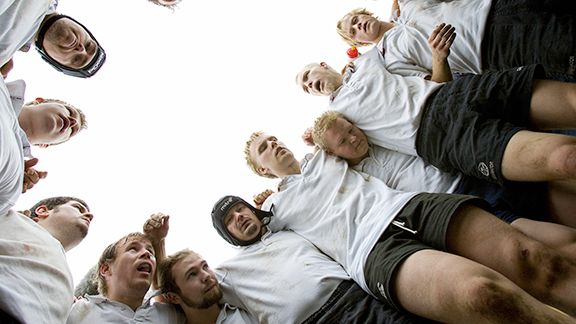 Pekka Fali for ESPN.com"Freetime Machos" is one of the films featured at this year's Tribeca Film Festival.
The Tribeca Film Festival began as an idea in 2001 following the attacks on the World Trade Center in New York City. The trio of actor Robert De Niro, film producer Jane Rosenthal and real estate developer Craig Hatkoff wanted to spur the economic and cultural revitalization of lower Manhattan through an annual celebration of film, music and culture. The Festival's mission focuses on assisting filmmakers to reach the broadest possible audience, enabling the international film community and general public to experience the power of cinema and promoting New York City as a major filmmaking center. Since its founding, the Festival, which opens Wednesday, has attracted an audience of more than 2.3 million attendees and has generated an estimated $600 million in economic activity for New York City.
ESPN recently joined forces with Tribeca and will have seven films as part of this year's festival. Page 2 interviewed Connor Schell, executive producer of ESPN Films, and Dan Silver, and the Festival Director for the Tribeca/ESPN Sports Film Festival, about the celebration.
The Tribeca Film Festival has been around since 2002, and ESPN has been involved the past four years. What's ESPN's interest in Tribeca?
Connor Schell: ESPN and Tribeca jointly launched the Sports Film Festival in 2007. The premise was that there are a lot of really talented producers and directors out there making films set in the sports world or centered around competition, some of which are brilliantly done. With the sports film festival, we wanted to try to give those films a home and showcase the work to new and wider audiences. Each year, the slate is a nice mix of documentaries and narratives from around the world and really offers something for all sorts of fans of both sports and film.