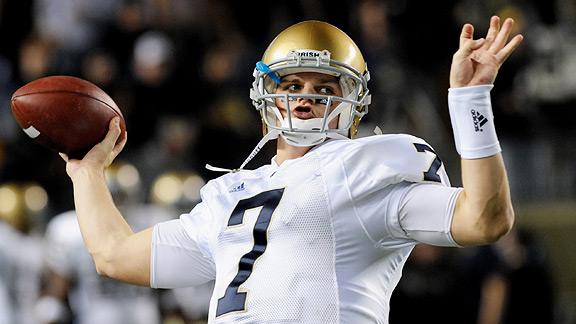 Al Messerschmidt/Getty Images
Here are 12 things I learned about the perfect QB throw and the NFL Draft ... while writing the Jimmy Clausen cover for ESPN The Magazine's draft preview.
• I learned ... that one of the things that profoundly effected Jimmy Clausen and motivates him to this day was watching his older brother Casey sit through the entire 2004 draft without getting selected. Casey performed well at Tennessee but his phone never rang. When the draft finally ended, Casey walked right up to Jimmy and said, "That's never gonna happen to you." Anyone who's a younger brother (like me) understands the impact that had on Jimmy. "That was a tough moment for him and for the rest of our family, but it drove me to another level," Jimmy says. "Every time I work out or play, I have that in the back of my mind, that I don't want that to happen to me and I have to do everything I can not to let that happen."
• I learned ... that back in 2001, then-Seahawks QB coach Jim Zorn tinkered ever so slightly with Matt Hasselbeck's mechanics. Zorn wanted him to make his motion a bit more compact and explosive. The rest of the story tells you everything you need to know about how complicated and counterintuitive it is to throw a football the right way. At one point in the process, a frustrated Hasselbeck finally turned to Zorn and complained that he felt awkward, confined and uncomfortable. That's when Zorn jumped up and shouted "THAT'S IT! YOU GOT IT!"
• I learned ... that after examining his horrific throwing motion, Uncle Rico is delusional about ever having a chance to take state.