Wednesday was tough for Ozzie Guillen. He had to answer questions about A.J. Pierzynski's concern that he'll be traded if the White Sox are out of contention in July. Plus, the White Sox were hammered 12-0 by the Rays at home.
As if that's not bad enough, Guillen spent his morning waiting for the cable man.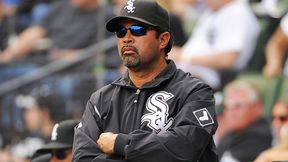 Ron Vesely/MLB Photos/Getty Images
Via Twitter, Guillen shared his frustrations while waiting for a technician to come to his home. "Its amazing to me how u have to wait for cable. As if I was getting it for free," Guillen tweeted at 12:56 ET. "8 am they said wow." After being told a half-hour later that the technician had been there -- which Ozzie disputes -- Guillen reported at 6:53 ET that the cable man finally came.
This is a perfect example of how public figures can use social media to connect with fans. We've all been there. However, it was also akin to finding out the Wiz was really just Richard Pryor.
The rest of us are used to these hassles, but not even a highly entertaining gentleman making millions who brought Chicago its first World Series title in 88 years can get service in the four-hour window? Not even Ozzie Guillen impresses the boys in coveralls?
Guess sports figures are like the rest of us -- they put their pants on one leg at the time and wake up to stare at their inoperable televisions just like the rest of us.
Or maybe Guillen's cable guy is a Cubs fan.