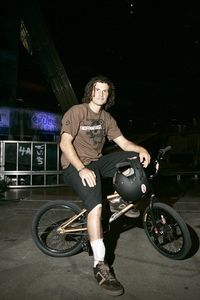 Mat Szwajkos/Getty ImagesMat Hoffman is a daredevil on a BMX bike and star of a movie.
Jeff Tremaine views Mat Hoffman, star of "Birth of Big Air", as one of the greatest athletes of all time. He also sees Hoffman as a guy who taught millions how to hurt themselves.
"Mat has destroyed his body doing this," Tremaine says. "He was doing this before any kind of big media storm. He's had more concussions than any football player I know."
Like all innovators, Hoffman had to sacrifice something -- his body -- in order to blaze a trail. In return he developed a sport and a culture that continues to grow and thrive after more than two decades.
"I don't think you have to be into BMX to like this story," Tremaine says. "It's about a dreamer who saw the impossible and just did it. You need that one pioneer to go out and do the impossible."