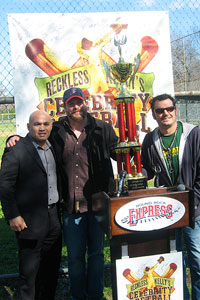 Jill McGuckin Jesse James Leija, Cody Braun and Willy Braun will be back at this year's tournament.
For the second consecutive year, minor-league baseball team Round Rock Express will team with country band Reckless Kelly for a Celebrity Softball Jam at the Dell Diamond in Texas on Sunday.
The softball game will feature several performing artists, including Reckless Kelly, and stars from the sports world, including former boxing champion Jesse James Leija, former baseball pitcher Greg Swindell, softball player Jennie Finch and Houston Texans tackle Eric Winston among the players.
Last year's event raised more than $35,000 for various charities. This year, the tournament will support Balcones Little League and Montopolis Little League in Austin, as well as The Miracle League at Town & Country and The Miracle League in San Antonio.
"We're a bunch of musicians so we aren't the best softball players in the world," said Willy Braun of Reckless Kelly. "So this year, we decided to start playing on Wednesdays just to prepare. We even went to some batting cages. We don't want to embarrass ourselves."
For more information on the event, visit the Reckless Kelly Celebrity Softball Jam website at http://www.rkcsj.org/.