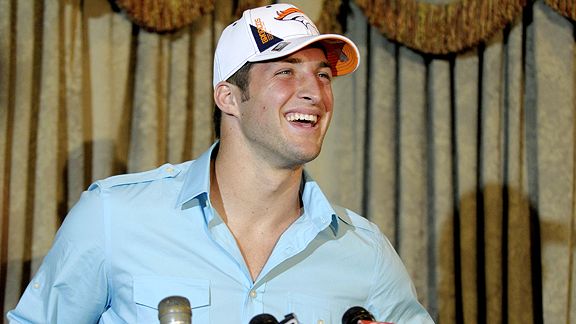 AP Photo/Phelan M. EbenhackTim Tebow is now a Denver Bronco. Wonder what fans in Jacksonville think?
Something sad about ESPN's overnight ratings for Thursday's opening round of the NFL draft. No, the Sunday Brunch is not talking about the 5.4 metered market Nielsen rating that was up 25.6 percent from 2009 and kicked the stuffing out of the NBA playoff ratings from the same night. That wasn't sad, that was wonderful.
But this is what was sad -- the No. 1 market for the draft throughout the entire United States of America was, wait for it, Jacksonville, Fla. Yes, Jacksonville posted a 10.9 -- twice the national average.
Do we really think all of Jacksonville was watching and praying that their Jags would pick defensive tackle Tyson Alualu of California? No, we don't think so.
And if Mr. Alualu dares tackle the newest Denver Bronco -- Tim Tebow -- in the season opener, his next stop will be in witness protection.
But Mr. Alualu will look great two years from now in his Los Angeles Jaguars uni.
What else is happening?
• Congratulations to Boston Marathon winner Robert Kiprono Cheruiyot from (duh) Kenya. The young farmer won $175,000 and had the best plan we've heard in a long time on what to do with the money: "I am going to buy some cows." You think Sam Bradford has the same plan?
• The good news for the Blue Jays was that Tuesday's crowd of 10,565 for their game against the Royals was just their second smallest ever. The bad news is that the all-time lowest of 10,314 was on Monday night.
Onward and upward to the main courses in the Brunch: