Want to name the winning horse in Saturday's running of the Kentucky Derby?
Here's your chance -- sort of.
We are offering you the opportunity to submit a great name for a race horse. Seeing you are reading this at ESPN.com, there's a good chance that you may come up with a sports-related name. You might think of something that involves prowling tigers or duplicitous Steelers. Or perhaps you'd like to see a name that reflects on health care or recalled automobiles.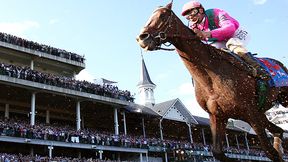 Jamie Squire / Getty Images
Your choice. Funny is good; so is sarcastic. Or just cool. But dirty is out.
The Jockey Club has numerous rules for the actual naming of thoroughbreds. We are sticking with just one of them -- the name cannot be longer than 18 spaces. If needed, you can run words together to make your name fit "somethinglikethis."
Here's Rule 11 from The Jockey Club: "Names that appear to be designed to harass, humiliate or disparage a specific individual, group of individuals or entity" are a no-no.
We are ignoring that rule, but at least a modicum of good taste is required.
You can submit as many names as you like in one of two ways: Simply post them as your comment at the bottom of this blog, or send them to me at osogreene@aol.com. Please provide your first name and last initial along with your hometown (or penitentiary). On Thursday we will return with a list of what we consider the best.
So give it a shot or as many shots as you want. Remember, no longer than 18 spaces. Your first name and last initial, plus hometown. And either attach here, or take your time and send to osogreene@aol.com no later than Wednesday.
Tiger and Ben will love this.