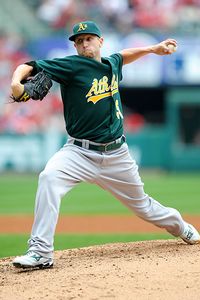 Kirby Lee/Image of Sport/US PresswireDallas Braden has some choice words for Alex Rodriguez.
Dallas Braden joined Grant Napear and Mike Lamb on KHTK in Sacramento to discuss Alex Rodriguez, baseball's unwritten rules, the psychology of the game and future games against the Yankees.
On if he took exception to Alex Rodriguez running over the mound during the game:
"Absolutely. It's a slap in the face to the organization, to my teammates and to myself. Ultimately, he's making a mockery of the game I love. That's just not going to be stood for … The take-home message was that we are not going to just stand idly by and let certain guys that think they are above the game or better than the game just kind of take over and turn our facility or turn our franchise into a whipping boy. That's not what we are about here."
On David Wells' comments that Alex Rodriguez is not well liked:
"I think [David] Boomer [Wells] hit it perfectly when he said that there are guys that you would give a certain level of courtesy to when trying to convey your opinion. The likes of a Jeter or a Bernie or a Cal Ripken, guys that have a done a lot for the game and have not lost themselves in the game, those are the guys you truly respect. Other guys that tend to put the game and the respect for the the game on the wayside and tend to dig themselves innings one through nine, those are the guys you let it fly with."
• Click here for a full transcript of highlights from the interview