It might be the most unlikely pairing in the history of Little League -- Vincent Mancini from "The Godfather Part III" and upcoming "Iron Man 2" villain Whiplash.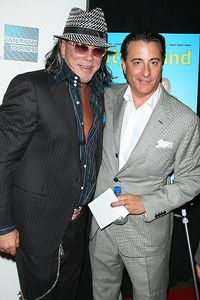 Jim Spellman/WireImageMickey Rourke and Andy Garcia have known each other for more than 30 years.
"No, it's true. Mickey Rourke was my Little League coach in Miami Beach," Andy Garcia said.
The two even reminisce about it when they see each other on the Hollywood circuit.
"He still calls me 'Slugger,' and I still call him 'Coach,'" Garcia added.
While neither of them may have made the major leagues, they've certainly found success. Rourke's "Iron Man 2" opens nationwide on May 7, while Garcia is currently promoting his independent comedy "City Island," which is playing in select theaters. In the film, Garcia plays a Bronx prison guard/aspiring actor whose wife is demanding, daughter is secretly stripping and son is infatuated with plus-size women.
"It was a very unique character for me to play, someone I identified immediately with," he said, "but not a character that I think normally producers or people in the industry would normally come to me for."
Of course, when it comes to the NBA, the actor doesn't mind being typecast. A longtime Staples Center (and before that Forum) presence, Garcia recently narrated "The Association: Los Angeles Lakers," an ESPN documentary.
"I'm a Laker fan," said Garcia without hesitation. "When I grew up in South Florida, the Miami Heat weren't around. If I have a team on the East Coast, obviously it's the Heat. They'd be my second team, but I've been a Laker fan longer."