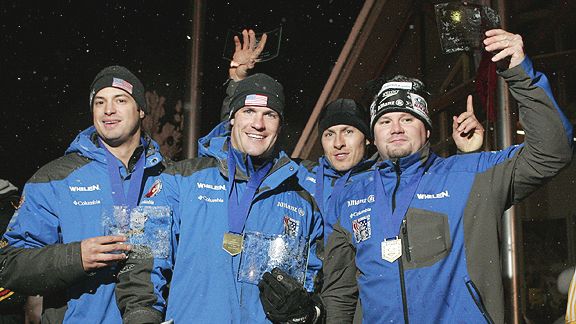 AP Photo/Douglas C. PizacSteve Mesler, Brock Kreitzburg, Pavle Jovanovic and Steven Holcomb celebrate after an event.
While standing at the top of a bobsled course, Brock Kreitzburg used to work himself into such a rage that it appeared as though he could rip off a competitor's head.
But last week, the former Olympic brakeman was cast in a different light -- seen screaming in fear as he was buried alive under a mountain of cement.
Welcome to Hollywood.
One dream, that of Olympic gold, may be gone. But the former University of Toledo wide receiver and decathlete is trying to dig himself out from under a mountain of debt by rigging stunts, performing stunts (he made about $700 for five takes last week) and even playing bit parts in TV shows such as "NCIS: Los Angeles," "Castle" and "24."
"The last year and a half has been one of the most challenging times in my life, physically, financially, spiritually and emotionally," said Kreitzburg, who two years after winning the World Cup two-man bobsled title (and finishing second in four-man) lost his job on the U.S. Olympic team because of a nagging hip injury that some feared might put him in a wheelchair within 10 years.
This "has been a complete walk of faith," he said, "and I'm hoping that I'm slowly walking out of the dark time I've had."