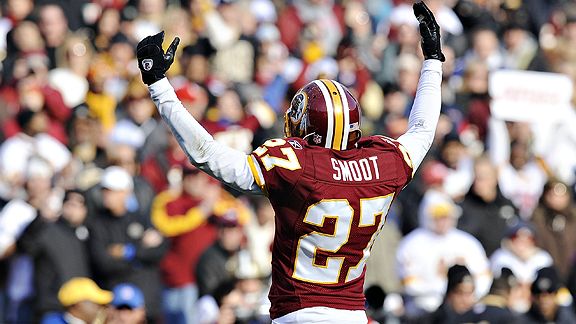 AP Photo/Nick Wass
Fred Smoot may not have a football home, but he's got a plan.
Last month, the cornerback, who spent seven of his nine seasons in the NFL in Washington, was released by the Redskins. Don't worry though; Smoot already has something else in the works.
"I'm always gonna be a part of D.C. I'm actually in the process of starting a couple businesses up here. I'm bringing Waffle House to D.C. -- I think they've been yearning for it for a long time," Smoot said.
For all the NFL GMs out there who could give Smoot a job, we'd like to remind all of you just what he brings to the table. But instead of rattling off stats, we thought we'd take a look back at where he shined brightest -- in front of a microphone.
On how to succeed in football:
"Fat boys wins my game. I know football, and in December, in the playoffs, fat boys win. Whoever's got the best fat boys is gonna win, so I'm gonna collect fat boys."
On playing injured:
"I wasn't gonna play because of my groin, but once [Shawn Springs] got hurt I had to man it up and call my grandma and tell her I need some red clay dirt. That's what we use down South to heal you, heal your muscles."
On his heritage:
"You know, somewhere, it happened. We don't know where it happened at, but two generations ago a Dutchman probably came over here. Smoot, that's a Dutch name. Plus, you know, I had a wood shoe in my room growing up."
On his alter ego Silky Johnson:
"He's a smooth type playa' that don't even play football. He's just a regular guy; my regular Washingtonian guy."
On just how great he is at cornerback:
"Two-thirds of the world is covered by water. The other third is covered by Fred Smoot."