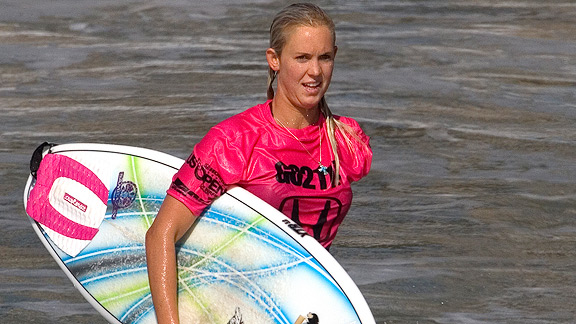 Icon SMIBethany Hamilton will appear on Sunday's 'Extreme Makeover: Home Edition.'
The truth is that Bethany Hamilton doesn't look at her disability as a disability.
Hamilton, a competitive surfer, lost her left arm seven years ago after being attacked by a 14-foot tiger shark. Three months later, she was back riding the waves and competing with one arm. In the years since, she hasn't let her physical challenges deter her; she finished third in a 6-Star Association of Surfing Professionals Women's World Qualifying Series event, and she's participating in a few competitions this summer.
She's keeping it moving, despite her circumstances.
The Carr kids can understand that.
Hamilton met up with the Carrs earlier this year, and their meetup unfolds this weekend on ABC's "Extreme Makeover: Home Edition," on Sunday (8 p.m. ET).
Katrina and Mike Carr shared their story with Hamilton, about how they came to adopt four special-needs children from Kazakhstan who were abandoned at birth. Hamilton talks to ESPN.com about how, even though her own story has inspired many people who face physical challenges, it was her who learned from the Carrs.
What made you want to appear on this particular episode?
"Once I actually heard about the Carr family's story, it really touched me. I love that the parents adopted the kids … and I think adoption is beautiful. There are so many kids out there in this world that need homes, and it's something that I want to do one day."