If Tyler Perry gets his wish, the filmmaker-mogul will one day pitch his loyal following a wicked curveball: a scripted biographical feature film about his good friend, Barry Bonds.
Now, Perry has the slugger's consent.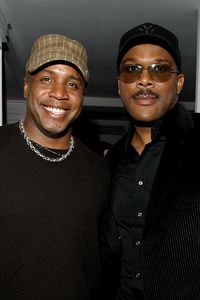 Lester Cohen/Getty ImagesBarry Bonds and Tyler Perry have been friends for years.
In an interview a couple of years ago, Perry said his dream project will shed some light on the controversies that have hounded the former San Francisco Giants slugger. "That story hasn't even been told yet," Perry said. "It's been told from everybody else's point of view, but Barry has a whole different version. It'll blow people's minds when they see it from the real."
Perry put the chances of his proposed film ever making it to movie houses as a "maybe," adding that the project would need to clear one major hurdle before he dares to draft a script: Bonds would have to give his consent, first. "I would never impose on a friend like that," Perry explained.
While a deal isn't yet eminent, the friend is on board.
Speaking from Staples Center before Game 5 of the Lakers-Thunder first round series, Bonds said he'd be thrilled to participate in a bio flick -- so long as it's helmed by Perry.
"Tyler is a good friend of mine and he can do whatever he wants with me," Bonds said, smiling wide. "We've been buddies for a really long time, since day one. I have a lot of respect for him and trust him completely. He can do whatever he wants with me."
Perry's brand is box office gold, his films having grossed nearly $500 million worldwide. But his forte is dramedy and his demographic isn't the typical audience for sports films.
"I've got some tricks up my sleeve," Perry countered, "different sides of me coming out."