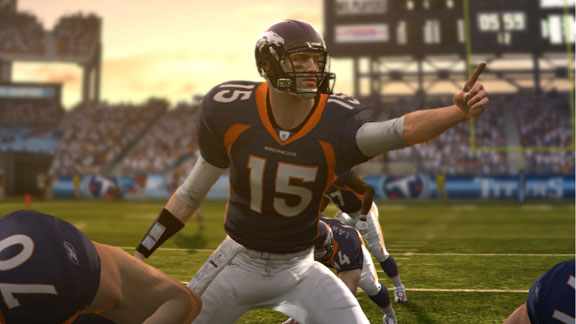 EA Sports
ORLANDO, Fla. -- While reporting an upcoming feature story, I recently spent a day at Tiburon's six-story Florida headquarters, where hundreds of employees create and refine yearly installments of the Madden franchise (along with NCAA Football, Tiger Woods PGA Tour and EA's upcoming MMA game).
Thanks to its popularity and longevity, Madden is a lot like the President -- tasked with pleasing a diverse, opinionated fanbase of, well, just about everybody. NFL fanatics and "Modern Warfare" fiends. Pre-teen boys and mortgage-paying 30-something man cave-dwellers. Making all those people happy isn't easy. As executive producer Jeremy Strauser put it -- diplomatically, I think -- Tiburon receives a lot of input. Much of it contradictory. Some of it not so nice. A few examples:
• Casual Madden players: Unlike the game's hardcore followers, these people don't want to set fish taco prices in franchise mode, don't want the game's controls to be slightly less complex than those of an F-16 fighter jet and don't want to spend more than an hour playing a single game. The new Gameflow playcalling feature in the upcoming "Madden 11" -- essentially, the game acts as your offensive and defensive coordinators, selecting plays for you in order to shorten play time and teach the basics of football execution -- is partially aimed at casual players; of course, when EA recently announced the change, hardcore fans flocked to message boards to denounce it.
• The NFL: In many ways, the league treats Tiburon less like a business partner than an unofficial pro franchise, even sharing its official coaches' game film database and breakdown system (a huge boon to Madden playbook designer Anthony White). That said, the league also exerts a degree of control over what ends up in the game, including tackles, big hits and touchdown celebrations (nothing brutal, illegal or offensive). Remember the much-beloved, player-truckin' Madden ambulance of yore? There's a reason it went the way of the bullpen car.
"I wish we could bring back the ambulance," says senior producer Phil Frazier, laughing. "That comes up a lot. We've used it in [our internal] presentations before. But with the NFL, that's the sort of thing that we can't slip past the goalie."
• NFL players: They play the game. They play as themselves. And almost universally, they want higher ratings -- witness Seattle Seahawks receiver T.J. Houshmandzadeh's announced boycott of Madden 10, despite a 91 overall rating. "I have to stand my ground most of the time," says in-game ratings guru Donny Moore. "T.J., you're a great receiver, we have you good in the stuff you're good at, but you're just not that fast."
• John Madden: The game's namesake meets with producers and designers a few times each year to make sure Madden's pro football bona fides are sound; last month, he requested that offensive tackles not line up in three-point stances for shotgun plays. "Oh, we squared that away," White says, laughing. "People around the office joke that I need a special red phone on my desk to call Coach [Madden].