BOSTON -- Where it began, Megan Kaiser can't begin to know when.
It wasn't the spring. Kaiser remembers that much. But as spring became the summer in 2003, the legend of "Sweet Caroline" at Fenway Park began growing strong.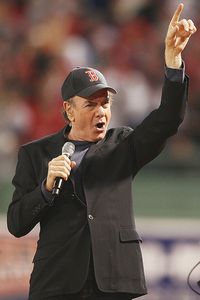 Elsa/Getty ImagesNeil Diamond sings his song 'Sweet Caroline' in the eighth inning as the Boston Red Sox play the Yankees.
"We didn't play it every game at that point," said Kaiser, the advertising manager and game-day music programmer for the Boston Red Sox from 2003-07. "We were still warming up to it. Toward the end of 2003, we were winning all the time and there was this constant fervor happening. There was a tangible feel to the stadium. We started playing it every game, win or lose, rain or shine. It almost became the battle cry."
Good times never seemed so good than two weeks ago on Opening Night at Fenway.
With the Red Sox rallying to take the lead over the Yankees heading into the bottom of the eighth, the baseball diamond took a backseat to Neil Diamond. The singer/songwriter finally obliged the Red Sox's long-standing wishes and performed live the iconic ode that has become as much a staple at Fenway as the Pesky Pole, with fans rising as one every night to shout its jaunty refrain, "So good! So good! So good!"
"I think it stands on its own," Kaiser said. "It's a regular radio song. It's AM gold. It's not a song that was written for the purpose of sing-along, no sports in mind. It happened of its own accord, and it's blossomed into this massive tradition. All the fans were on the same page."