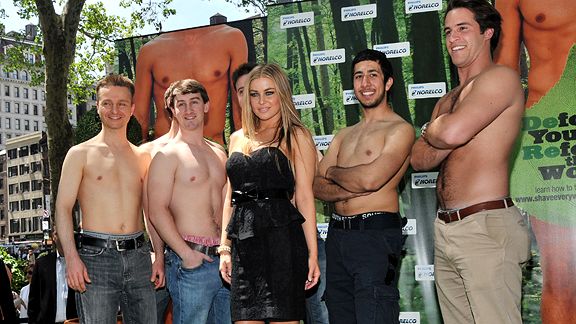 Henry S. Dziekan III/Getty ImagesCarmen Electra kicks off a campaign in New York to have men 'deforest themselves.'
Carmen Electra is really shy.
Don't believe me?
Just ask her.
"I'm really shy," said Electra, who is a model and an actress.
"You might think that because I take my clothes off and do all these sexy shenanigans that I'm in your face," she said, "but I'm not."
That's why she was little dainty when it came to talking sports during the kickoff event of Philips Norelco's "Deforest Yourself. Reforest the World" campaign in New York.
I asked her about her favorite hairy male athlete or guys she's rooting for in various sports, but she wasn't having any of that.
"I used to throw names out there, like when I talk about my crushes," said Electra, who was married to basketball player Dennis Rodman and singer Dave Navarro. "But somehow it gets twisted around and I'm connected to these people. That even happens when I talk about actors. So I learned not to say anything."
But she did say she's rooting for boxer Floyd Mayweather Saturday night against Shane Mosley for the welterweight title.
"I just started watching that show on HBO about Mayweather, and I've really gotten into it," she said. "I love his confidence and his sweeter side."
Electra was in New York helping Philips Norelco, who is partnering with the Arbor Day Foundation, to plant a tree for every person nationwide who buys a bodygrooming product, up to 75,000.
"I like guys who look good and are in shape and I want them to keep their hair trimmed," Electra said. "This is my opportunity to show my inner dominatrix."