Erin Andrews' dance partner, Maksim Chmerkovskiy, said the tandem is "peaking at the right time" for ABC's "Dancing With the Stars."
With only six couples remaining and a handful more shows, it's no time to slip up.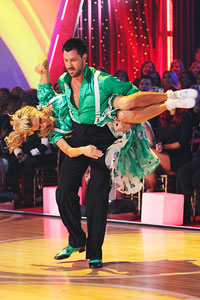 ABC/Adam LarkeyErin Andrews and Maksim Chmerkovskiy are in the final 6 couples in "Dancing With the Stars."
"We are in a good position," Chmerkovskiy said. "We see the light at the end of the tunnel and that should motivate us as we go forward."
On Monday, the teams of celebrities and professional dancers will be performing a variety of moves. Besides Andrews (quickstep), the celebrities still standing are actress Pamela Anderson (slow waltz), ice skater Evan Lysacek (Argentina tango), actress Niecy Nash (quickstep), football player Chad Ochocinco (Vienna waltz) and singer Nicole Scherzinger (slow waltz).
And then Andrews, Lysacek and Nash will take on Ochocinco, Anderson and Scherzinger in a cha-cha competition.
Lysacek said Andrews is coming into her own at the right time.
"Once you meet her, you want to be around her all the time," said Lysacek, who is one of Andrews' closest friends on the show. "She is so strikingly beautiful in person. She's so fun and humble and extremely appealing."
Nash and Ochocinco are the two dancers to watch Monday as they've struggled in the past few weeks, and they will need the public's vote to hold on.
"Everyone wants to win it," Chmerkovskiy said. "It's not an issue of how competitive you are now. It's really up to the fans."