After spending 25 years in the background, Khloe Kardashian has finally emerged from her sisters' shadows after marrying Los Angeles Lakers player Lamar Odom. Some thought her marriage wouldn't last long because both of their shotgun wedding and their hectic schedules, but that hasn't been the case. Kardashian joined ESPN Radio in Los Angeles to talk about what the first year of being a Los Angeles Lakers wife is like and what her highlight was from visiting the White House with the Lakers.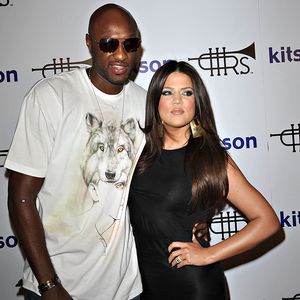 John Shearer/WireImageKhloe Kardashian and Lamar Odom have been married about eight months are are going strong.
What's it like to be a Lakers wife?
"It is my first year really into basketball and I think that I am catching on pretty quickly, which I'm excited about. I am so into every game. I actually watch every road game. I try to watch it and I go a little crazy, but I love how my whole family is now into basketball. It is pretty cool."
What was the highlight from visiting the White House?
"I mean meeting the President, of course, and seeing my husband be honored and the whole team. But being there for that whole ceremony was such an honor and a blessing. I never thought I was going to go to the White House."
What nickname are people giving your marriage?
"They call us 'Khlo-Mar'."
• Click here for a full transcript of highlights from the interview