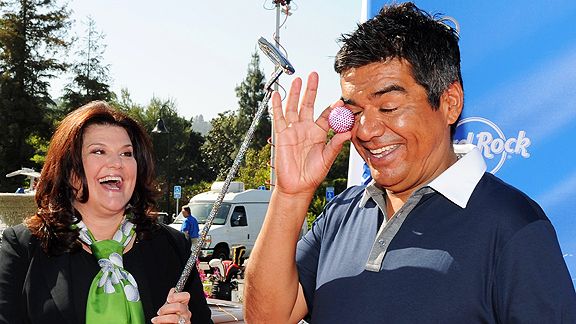 Michael Buckner/Getty ImagesAnn Lopez and comedian George Lopez arrive for their 3rd annual celebrity golf tournament Monday.
LOS ANGELES -- George Lopez and dozens of his celebrity friends gathered Monday to tee off in the name of charity. They came dressed in over-the-top golf attire, bright clothes, floppy hats and funky belts and trashed talked one another about who had the golf game -- Samuel L. Jackson says talking smack is his greatest asset.
Before they jumped in their golf carts to take in one of their favorite sports for the third Annual George Lopez Celebrity Golf Classic to benefit The Ann & George Lopez Foundation, some of the basketball-loving celebs chatted up the NBA playoffs.
George Lopez: "They're so many great teams. From a city like Oklahoma, to the Celtics, who have a tradition of championships. To me, there's going to be a lot of finals. There's a Cleveland and Boston final. If the Lakers get past Utah -- and they will, because unfortunately it will only take four games because that's the minimum they can play. There's lot of really great teams. There are a lot of players that you have to enjoy now. You see the young guys coming up. They thought when Michael Jordan, Magic, Kareem and Bird retired, that was it. But nope. It's a great sport. The future of NBA looks amazing."
Sugar Ray Leonard: "With the Lakers coming back and sustaining even in spite of their injuries to the top players, that's the face of a champion: a warrior when you overcome those obstacles sand adversities."