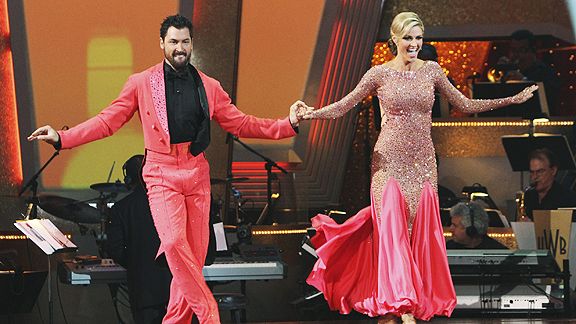 ABC/Adam LarkeyErin Andrews and Maksim Chmerkovskiy scored a 27 in Monday's show and likely will be safe.
Olympic gold medalist Evan Lysacek and his partner Anna Trebunskaya scored the first perfect score of the season -- 30 out of a possible 30 -- in Monday's competition on ABC's "Dancing With the Stars" and likely will be safe to move on.
"This has been the most fun experience I could have imagined," said Lysacek, the 2010 Olympic figure skating champion. "I love taking on new challenges, and this one is brand new to me. I've spent so many years doing things by myself as an individual athlete that it's really cool when I can do well as a team."
The other two teams likely safe are ESPN personality Erin Andrews and partner Maksim Chmerkovskiy, who scored a 27, and Pussycat Doll Nicole Scherzinger/Derek Hough, who also scored a 27.
The other three couples -- Chad Ochocinco/Cheryl Burke (25), Pamela Anderson/Damian Whitewood (24) and Niecy Nash/Louis van Amstel (25) -- will be the nervous ones as the 10th season of the show winds down to the final few weeks.
Lysacek said he knows it's not over yet, but he doesn't want to go home any time soon.
"I don't want to wake up and not have a new dance or a new challenge," he said. "I'm just thankful for this opportunity and I hope we get to do this as long as possible."