So far, Jimmy Clausen has gotten off easy.
All this year's second-round pick by the Carolina Panthers had to do was bring a little bit of home to fellow Californian and new teammate Steve Smith. The veteran wide receiver sent Clausen a text message requesting some Cactus Cooler sodas.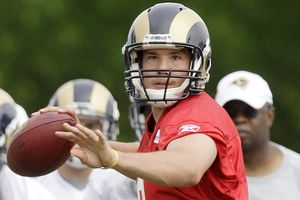 AP Photo/Jeff RobersonAppetizers, desserts ... order up, guys. Sam can afford it.
Most NFL newbies will have to carry a veteran's gear to and from every practice. Some will be asked to bring donuts to the locker room. Others will have to fetch Gatorade, as Bill Parcells famously used to make his top pick do every year when he was coaching.
In an effort to help this year's top NFL draft picks, here are some ways these high profile rookies just might be welcomed by their new teammates.
No. 1 Sam Bradford
The St. Louis Rams' quarterback of the future is about to hammer out a deal in the neighborhood of $50 million. His new teammates will most likely take their piece of that in the form of steak and lobster tails. Dinners for the whole team paid for by the rookies are common in the NFL, with tabs exceeding $30,000.
No. 2 Ndamukong Suh
The Lions' new sack specialist may have been B.M.O.C. at Nebraska, but in Detroit, Suh might have to sing for his supper. Rookies are often made to go a cappella at meal time, and anyone who chooses not to belt out requests faces retribution. Considering he's in Motown now, I think Suh should brush up on his Diana Ross and the Supremes.
No. 3 Gerald McCoy
Let's hope Tampa Bay's top pick isn't attached to his current haircut. One of the most prevalent forms of hazing involves breaking out the clippers. McCoy will be lucky just to get the Buccaneers' logo shaved into the side of his head, but something tells me his new teammates won't be that nice.
No. 4 Trent Williams
At 314 pounds, the newest offensive tackle for the Washington Redskins is quite a load. I'm not sure how many rolls of duct tape it would take to strap Williams to the goal post, but I have a feeling we'll find out this July. I'm setting the over/under at 2½.
No. 5 Eric Berry
The newest Chief recently said the first thing he wanted to buy was a 2010 Camaro. Because rookies' cars are often the target of hazing pranks, I'd invest in LoJack if I were Barry. Or at least a spare set of tires. There's a good chance his new ride will end up on blocks outside Arrowhead Stadium.