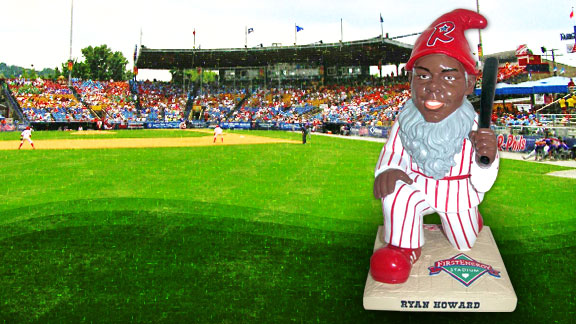 ESPN.com IllustrationThe Ryan Howard lawn gnome, offered by the Reading Phillies, tops the list of bush league giveaways.
As astute ballpark travelers already know, the teams of baseball's bush leagues are a heck of a lot more generous than their big league counterparts when it comes to handing out freebies.
Among the familiar giveaway items that minor league wanderers are already well accustomed to receiving as they pass through the turnstiles include baseball cards, hats, T-shirts, team photos, logo balls, and youth bats and fielding gloves.
And don't forget about all of those bobbleheads. They remain the most popular ballpark gift, whether depicting a star of the local team, a hero from yesteryear who's moved on to bigger and better things in the Show, or even the local mascot.
During the course of any season teams also offer an array of door prizes that fans wouldn't necessarily expect to be handed on their way into a ballgame. And those inspired items are the focus of this piece.