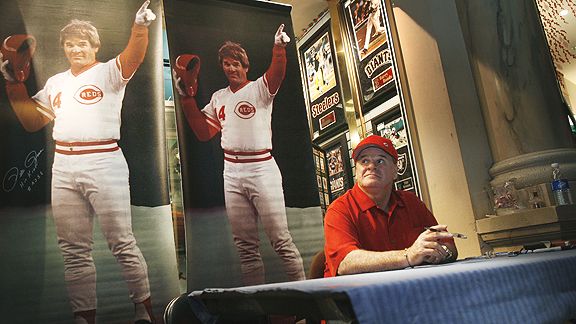 AP Photo/Isaac Brekken
Twenty-one years after his gambling problems got him banned from baseball, all-time hits leader Pete Rose will finally be inducted into a professional baseball hall of fame this summer. Rose, 69, will be inducted alongside the late Casey Stengel, former manager of the Yankees and Mets; and Roger Angell, longtime baseball writer for The New Yorker.
Rose, of course, is not being inducted into Cooperstown (please, that Hall of Fame is strictly off-limits to gamblers, cheaters, thieves, racists, adulterers, substance abusers and other disreputable types). No, Charlie Hustle is being enshrined in the Shrine of the Eternals at The Baseball Reliquary in Monrovia, Calif. -- a hall of fame that honors figures for their impact on the sport of baseball in ways that supersede statistics.
Among the past inductees are Bill James, Roberto Clemente, Mark Fidrych, Curt Flood, Marvin Miller, Bill Buckner and Bill "Spaceman" Lee.
The reliquary -- "a place that holds relics" -- was founded in 1996. In addition to its Shrine of Eternals (which sounds like something out of an episode of "Six Feet Under"), the nonprofit organization puts together educational exhibits such as Lasordapalooza -- an exhibit currently on display at Pomona Public Library that examines the cultural impact of the former Dodgers manager.
The Baseball Reliquary subsists on donations -- fees that allow you to become a voting member for as little as $25. So, if you're sickened by Cooperstown's unwillingness to recognize the cultural impact of Rusty Kuntz, you can band together with friends and help induct that man into the Baseball Reliquary!
Every year, voters are sent a ballot and asked to list their top three choices for induction. The three nominees with the most votes are selected for enshrinement -- even if they lied about betting on baseball for 15 years, then copped to it in order to sell books.
Rose, Stengel and Angell will be inducted on July 18 in a ceremony in Pasadena, Calif. Will Rose attend? It's probably the only professional baseball hall of fame he'll ever get elected to, so he might as well.