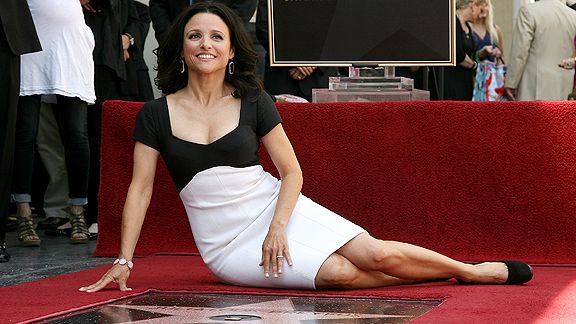 John Shearer/Getty ImagesJulia Louis-Dreyfus of "Seinfeld" fame has a very difficult name to spell.
Someone forgot to run spell check this week.
On Monday, Atlanta Braves manager Bobby Cox laughed off his name being misspelled on a cake in Washington, D.C.
"Seinfeld" alum Julia Louis-Dreyfus joined the club on Tuesday when she realized her name was misspelled on her star on the Hollywood Walk of Fame.
Both parties took the errors in stride.
Cox was in the nation's capitol for the Braves' series against the Washington Nationals. U.S. senators Johnny Isakson of Georgia and Jay Rockefeller of West Virginia invited the longtime manager to Capitol Hill to honor his achievements in baseball. Unfortunately, the celebratory cake read, "Thanks for 50 Great Years Bobby C----."
Luckily, a staffer realized the error and smeared the icing before it was served. Cox enjoyed a piece of the cake and was only told about the misspelling days later.
"That's funny," Cox said. "What bakery did he get that cake? That's what I want to know."
Julia Louis-Dreyfus also laughed when she received the 2,047th star on the Hollywood Walk of Fame on Tuesday only to find her last name written "Luis Dreyfus."
"The misspelling was so perfectly apt, a great metaphor for show business," Louis-Dreyfus said after the ceremony. "Right when you think you've made it, you get knocked down. It's an ideal metaphor for how this business works."
Let's hope that former Carolina Panthers running back Tshimanga Biakabutuka doesn't announce a comeback tomorrow, or this week's misspelling hat trick might be complete.