Finding this one's going to be a bit tougher.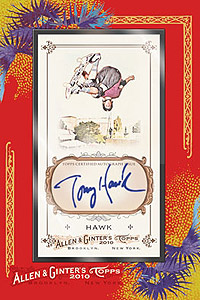 ToppsTopps is hoping the Tony Hawk trading cards will be popular with the skateboarding crowd.
More than two million people are followers of skateboarding icon Tony Hawk on Twitter, and one of the things that he regularly does besides tell the world what he's up to is something that just might drive memorabilia collectors crazy.
He hides his used skateboards, and Tweets their locations for a lucky follower to find, no strings attached.
"I just hid my used deck under the slide at the playground next to northampton, MA Skatepark," he wrote on Thursday. "Finders keepers."
That'd be like LeBron James handing over his sneakers after the game or Dale Earnhardt Jr. having over the keys to the No. 88 after a race. (Well, if it had keys …)
But the hunt for Hawk's treasures isn't done just via Twitter.
Topps will include as many as a few hundred autographed cards of the self-confessed "professional skateboarder, dad, video game character, husband, CEO, kid chauffeur, global hopscotcher, Huckjammer and public
Skatepark defender" in packs of its 2010 Allen & Ginter baseball cards which will hit stores late next month.