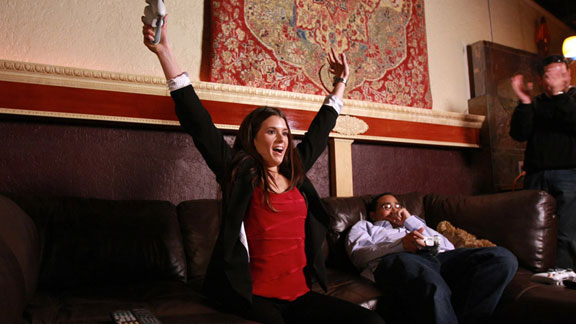 ActivisionDanica Patrick beats the producer of "Blur" at his own game.
Danica Patrick, video game boss?
That's right, the girl who grew up playing "Mario Kart" is turning polygonal in Activision's slick new racer "Blur." Patrick plays one of nine rivals in career mode and according to her at least, "My character will do whatever it takes to put you in your place." The game features over 50 licensed cars, from the Audi R8 to the Corvette ZR1, and if you beat Patrick's character in the game, you can swipe her ride for use in both single and multiplayer levels. What she's driving in "Blur," though, Patrick won't say. "We don't want to spoil it before the game comes out," she says. "It's a little bit of a secret, but as you can imagine, I'm a good driver."
As for her favorite part about virtual racing? "When you crash you can keep going," Patrick laughs. "You can also hit people, and there's the ability to fix your car on the go with a mechanic button. You can even shoot off bombs at cars and use boost.
"We have push to pass at IndyCar, but that's only like five horsepower. That's pretty pathetic compared to the warp speed that you get in the game."
Patrick recently spent the day at Activision recording lines for her character, and as she explains, "You're going to see me on some level in the game, but you're really going to hear me."