ABC's "Dancing with the Stars" started with 11 couples, and after Tuesday's elimination show, it'll be down to four.
Here's Page 2's look at the five remaining couples and the chances of survival this week: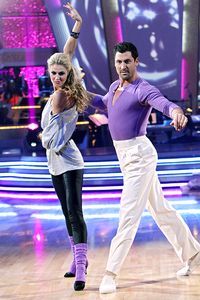 ABC/Adam LarkeyErin Andrews and Maksim Chmerkovskiy danced well on Monday night. Will the public agree on Tuesday?
Nicole Scherzinger-Derek Hough: Easily the best dancers on the show. The judges love them and the public loves them. On Monday, they scored a perfect 30 on the 1950s Paso and a 29 on the foxtrot. It'll be a shocker if this duo doesn't win it all.
• Chance of survival: NO BRAINER.
Evan Lysacek-Anna Trebunskaya: The tandem have been nipping at the heels of the Scherzinger team but haven't been consistent enough to overtake them. On Monday, they scored a 26 on the futuristic cha cha and a 27 on the waltz.
• Chance of survival: ALMOST ASSURED.
Erin Andrews-Maksim Chmerkovskiy: The two talk about still needing to bond more, but the duo has been coming on strong on Mondays during the actual dance competition. They scored a 28 on the Argentine tango -- their highest score of the season -- and a 25 on the 1980s rumba. But they have struggled with the public's vote.
• Chance of survival: LIKELY.
Chad Ochocinco-Cheryl Burke: It's probably Ochocinco's Twitter following that has kept him in this competition. He struggles each week during the dance but the public continually votes him to the next round. On Monday, the couple scored a 21 on the tango and a 24 on 1960s jive. To show his devotion to his fans, Ochocinco said he'll fly six fans to next week's show -- if he survives.
• Chance of survival: MAYBE.
Niecy Nash-Louis Van Amstel: This has been the most surprising duo of the bunch. Each week they score near the bottom by the judges, but they rarely sniff getting eliminated. Nash has a strong following from her television career and she might be garnering the votes of the everyday people. On Monday, the couple scored a 23 on the Viennese waltz and a 20 on the Paso Doble.
• Chances of survival: NOT LIKELY